The Last Dance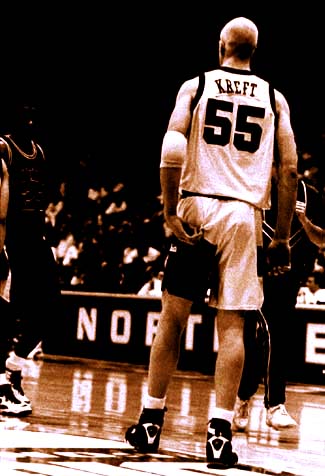 It's been a long time coming. As the saying goes, "all good things must come to an end," and my career as a college basketball player is no exception. Part of me has waited for this for a long, long time. The end has finally come...the end of surprise 5am practices, the end of having to juggle a Big Ten game schedule with an electrical engineering curriculum, and end to the constant frustration of never pulling off two consecutive victories in the Big Ten...The End. But there is a part of me that will always long for practices, where I see myself improve on a day-to-day basis; that longing for the sweet taste of victory when it does come, and a longing for the friendship and camaraderie that makes our team such a close-knit unit.
With my mind a swirling pool of emotions on the brink of spilling over, it was all I could do to maintain my composure. I wanted this game to be over with so my life could return to "normal" but the more I thought about it, the more I realized that this is normal for me. I have gotten so used to being a part of a basketball team that little else seemed right to me...what would I do with my spare time? I can't remember that I've ever really had any spare time.
Senior Night Live
As I stepped out onto the floor, I left my emotions in the locker room. Shoot-arounds have always bored me (only so much a 7-footer can do to warm up without stepping on ball boys and point guards) so I did what I could to amuse myself with my usual assortment of wacko shots...underhanded scooping layups, reverse layups from behind the backboard, and of course, lots of free throws--anything to help me loosen up (if I get too hyped up before a game I will inevitably play like crap). When we got called in for the "big men" meeting, I threw up a 3-pointer. "Spot-up 7-footer" I called silently to myself. It didn't go in.
It was senior night--the last home game of the season, the night the seniors on the team are to be honored (or at least acknowledged). At every senior night I've ever witnessed, ours and opponents' alike, the seniors of the team are granted an honorary starting position--even if they'd never played a minute before--it's a time-honored tradition. Put them in for one minute of glory, then sit 'em back down where they belong--it's better than nothing. As I stepped back into the locker room, I noticed that my name was not in the starting line-up. Coach Swanson was at the board scribbling something down.
"What, we don't start seniors on senior night anymore?" I queried.
"Nope." Assitant Coach Paul Swanson replied dryly.
"Since when?" I retorted.
"We only start them if they 'do something.'"
He replied without even looking me in the eye. He might as well have said "Because you suck, Dan".
He didn't say that I sucked, but he didn't have to. I know I'm not the best thing to hit the floor since the Reebok Pump, but I'd like to think that I would be entitled to at least one honorary start in the Big Ten before I'm forced into retirement. It obviously didn't kill me not to start nor did Swanson's subtle insult, but as my motto goes: "That which does not kill me just pisses me off." I was not pleased in the least, but such is life--we can't always have what we want.
Pass me the analgesics, NOW!
Sitting on the bench awaiting tip-off, my eyes welled with tears. It was beginning to hit me. "This is it, Dan....your
last
game--you will never play organized ball again outside of some corporate league, playing with a bunch of executives that have more hair on their backs than on their respective heads, and all of whom will be playing in goggles and kneepads." I fought back the tears and wiped a few escapees away with a towel.
"Dan, go in for Evan"--the voice from on high came down the bench. When my name was called, my mind was instantly cleared of all else but the task before me. I was to defend Mo Taylor and Maceo Baston--my two least favorite players in the league to gaurd. Why? They're smaller, quicker and can jump out of the gym, not to mention the fact that in every game I've played against Michigan, Taylor has mangaged to posterize me. I've never liked playing against the smaller, quicker "centers" in this league but I didn't let that bother me. Taylor, I figured, is going to catch some wild rebound and come down on top of me from out of nowhere no matter what I do so when it happens I don't let it bother me--stuff happens.
After playing on and off for some 18 minutes, I managed to rack up a career-high-tying 7 points (would have been 9 points and a career high if it were not for a crew of particularly blind officials at this game that totally blew a goal tending call on Baston--I was shooting down at the basket, but still no call), 4 rebounds and two blocks. I also got two dunks which was particularly satisfying.
With 4 minutes left to go in the game, one of our gaurds drove the lane and found me eagerly awaiting a dish-off a few feet outside the lane. Ball in hand, I figured that if I was going to score it was going to be on a power move--I was in a particularly agressive mood given the night I was having. The only thing that stood between me and the basket was Travis Conlon (I think that's who it was--all I know for sure was that it was a small white boy in a yellow jersey). I took a dribble or two and powered up to the basket.
Admittedly, I don't exhibit the best control when driving to the basket--I'm rather partial to just running the opponent over, kinda like human bowling. As I rammed into Conlon, I could just envision the refs blowing the whistle and calling a charge but what happened a split second later was something that I did not expect. Not only did I not get the whistle, but when I came back down I twisted my foot behind me and broke my right navicular bone, one of many bones in the top of the foot--ironically the very same bone the very same bone in the same foot that Evan broke two years ago. He started his college career with a broken foot, I end my college career with the same injury--how poetic. As I lie there under the basket writhing in pain and sreaming my head off, I could hear both teams run the other way down the court. Play did not stop until the ball was dead, but when the ball was out of play I could hear the crowd collective rise to their feet in one big motion, silently hoping that I was okay.
The first voice I heard was that of Mike Gilmartin, our trainer.
"Okay Dan, I'm here now."
"AAAAAAAAAAARRRRRGH!"
"Did you hear anything pop or snap?"
"I didn't hear !%! Oh @#*$! @#*$!"
"Dan, calmn down...just calm down"
"ARRRRRRRRRRRRRRRRRRR!!!!!"
"Where does it hurt?"
"Oh !%, my ankle, my foot, oh @#*$! ARRRRGH! This sucks!"
After a cursory examination and giving me some time to cool off, Mike Spoke up again. "Okay, just stay there, don't move. When you feel like it we'll get you over to the bench."
"ARRRGH! @#*$ it....get me outta here--let these guys play."
I have yet to see a tape of the game (still waiting for a copy from
Sports Channel
), but from what I understand, a TV camera from the Sports Channel hovered there above my head, catching every last grimace and foul utterance that fell out of my mouth. One television viewer commented to me via e-mail about how "they filled my 27-inch color TV with your head and I got to listen to all your pain-induced curses." Woops...can't say that I realized at the moment that Mr. Cameraman was playing Candid Camera with me, but I can't say that even if I had realized it that it would have made a difference. It's amazing how small your world becomes when you're in agony.
As I was carried back to the bench, I received the normally obligatory standing ovation--but this one was different....I could just tell. The crowd wasn't just clapping because I was okay, they were clapping because they saw just how hard I was working and that I was playing the best game of my life. They applauded my effort, not my verticality. Funny how you can tell these things, but I guess unless you're a part of it you wouldn't be able to tell the difference.
I sat there on the edge of the bench, and as it became painfully obvious that I would never set foot on Welsh-Ryan arena again in a Big Ten contest I was overwhelmed with emotion. I wept.
After the game, in a gesture of supreme sportsmanship, Maceo Baston approached me as I sat at the end of the bench, nursing my foot then covered with ice. He wished me luck in the future, shook my hand and we gave each other one of those pat-on-the-back-while-embracing-and-shaking-hands type things that seems to come with the territory of being an athlete. I was truly impressed by his gesture. One or two of Michigan's coaches came over to check up on me too, with Steve Fisher right on their heels. He gave me one of those fatherly "I'm concerned about you, are you okay?" type looks as he rested his hand on the back of my head and I almost started to cry again (wow, now that I read this, I did a lot of crying this game---it was a very emotional experience). I could see the genuine concern in his eyes and knew that it wasn't just a robotic gesture of sportsmanship. I've a newfound respect for Coach Fisher and Maceo Baston--a quality coach and one heck of a player. It's people like these that make me all the more reluctant to give up my eligibility.
So what now?
Up to and even after that night, I had pretty much written off basketball as a potential source of income in the future. Sure, at the beginning of the year I had aspirations of playing in the NBA fueled by some kind words from Juwan Howard, and the satisfaction of knowing that I had held my own against NBA and pro-European professional hoopsters this past summer; but as our season unfolded and my performance did not meet my expectations, those aspirations quickly faded. "Maybe Europe" I thought to myself. We continued to lose and my stats were, although getting better, still not what I would consider enough to make me a commodity in the pro-hoops market. As hopes of European tours faded, I began circulating my resume around various corporations, hoping that I would land a decent job as a Webmaster/System Administrator.
Then my phone rang.
"Big Dan." It was Coach Parrish.
"Yeah, coach, what's up?"
He asked questions about my ankle, how I was doing, what the doctors said about it, etc., etc....the usual small talk.
"So what's going on?"
I normally don't get calls from the coaching staff unless something is up. I knew that either he or someone else wanted something from me--that's how it normally works.
"Well, I got some news for ya..."
It seems that I played well enough to catch the eye of a scout named Clarence Gaines from the Chicago Bulls. Parrish went on to tell me that the scout was "intrigued" by this big 7-foot oddity that had been playing right under his nose for the past 3 years unnoticed. He elaborated some and finally told me that I had been invited to the Chicago Bull's training camp ("rookie camp") this spring! I couldn't believe it...I still can't believe it. I've only been playing organized basketball since January 1992 and now I'm going to get a once-in-a-lifetime chance to try out for the best team in the League.
After my foot heals, I'll be working out with some of the prospective first and second round draft picks to give everyone an idea of where I am skill-wise, then in mid-July I'll be travelling out to Utah for the NBA summer leagues where the final cuts will be made. I'm sure I'll have plenty to say about those experiences as well, so stay tuned folks....it ain't over just yet.