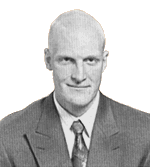 55 - DAN KREFT
SENIOR
CENTER * 7'0" * 260 lbs.
Coral Springs, FL * Coral Springs
GENERAL NOTES
Good rebounder and defender ... Excellent shot-blocking ability ... Has made terrific progress as a player, having never played organized ball prior to college ... Has added 25 pounds of muscle during career ... Leg presses 610 lbs., highest on team ... Transferred from Polk Community College in Florida in 1993 - 1994.
JUNIOR NOTES (1994 - 1995)
Played in career-high 26 games ... Tripled playing time from first season, racking up 288 minutes for an average of 11.1 per contest ... More than doubled his career points (52) and rebounds (52) ... Scored career-high seven points at Minnesota, Jan. 11 ... Went 5-of-7 form the line that night ... Grabbed personal-best four rebounds on eight occassions ... Averaged 16.8 minutes, 2.0 points, 3.2 rebounds and 1.6 blocks in last five games of campaign ... Second on team with 21 blocks ... Swatted away at least two shots in a game six times, including three vs. Minnesota, March 4 ... Academic All-Big Ten selection.
SOPHOMORE NOTES (1993 - 1994)
Appeared in 19 games, 11 in conference play ... Saw 11 important minutes in 79-68 victory over Illinois, Feb. 12, grabbing two rebounds and getting a steal ... Scored four points in season-opening victory over Chicago, Nov.27, and again in 86-70 decision at Youngstown, Dec. 15.
JUNIOR COLLEGE NOTES (1992 - 1993)
Basketball Coach: Josh Giles
Averaged 2.2 points per contest at Polk Community College ... Led his team to the first round of the state tournament ... His team finished second in the Suncoast Conference last season ... Was only member of squad to earn Academic All-American honors.
HIGH SCHOOL NOTES
Did not play high school basketball.
PERSONAL NOTES
Born Daniel Lee Kreft on July 17, 1972, in Kankakee, IL ... Son of Bruce W. and Paula J. Kreft ... Majoring in electrical engineering.
---
Back to BigDan in the BigTen.