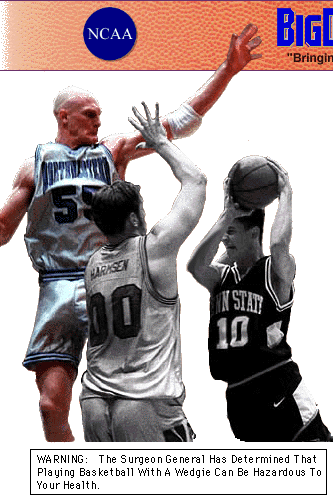 little more bearable. In a school whose athletic motto was "Expect Victory", we did nothing but "Avoid Victory".

Life on the Inside Journals
The meat and potatoes, the main attraction of this site. This is what the whole sports world was talking about for several months. Because of this section, this website has been featured in Sports Illustrated, on a nationally syndicated TV show called "Nothing But 'Net" and several guest appearances on television and radio (ESPN radio network).

Personal Profile
Straight from the Wildcats media guide for the 1995-1996 season...player history, personal interview, etc.

See also Kreft's File and my Career Jokes Highs.

Open Letter to the Media
This is a letter that I wrote after Jay Mariotti of the Chicago Sun-Times quoted a number of my stories out-of-context and did a bang-up job of getting me in trouble with my Life On The Inside series.

My Summers With the Pros
The last two years of my collegiate career, I was invited to play in the Chicago Pro-Am. During these two summers, I had the great pleasure of playing with and against the likes of Tim Haradway, Juwan Howard, Kendall Gill, Jason Caffey, Ron Harper, Randy Brown, Donald Whiteside, Kevin Garnett, Glenn Robinson, Dean Garrett, former UW star turned European professional Rashard Griffith (who I later met up with in Turkey) and a host of other NBA and European League professional players whose names I cannot recall right now.

Anyway, this link leads to a photograph of Tim Hardaway, Juwan Howard and myself playing at Illinois Institute of Technology during one such game. This photo was given to me by Carl Sissac, an NBA photographer, after Juwan's team beat us in the championship game.
---