Life on the Inside
This is the gateway to my stories, my NCAA Hardwood Journals. These stories were written immediately after each game highlighted below, usually back in my dorm room at midnight or even on the plane ride back to school. These stories tell you, the reader, exactly what was going on in my mind before, during and after some of the more interesting games during the 1995-1996 season in a no-holds-barred manner that, at times, got me into trouble with the coaching staff and the alumni. I hope you enjoy reading them more than I enjoyed having to endure some of the events that inspired some of these stories.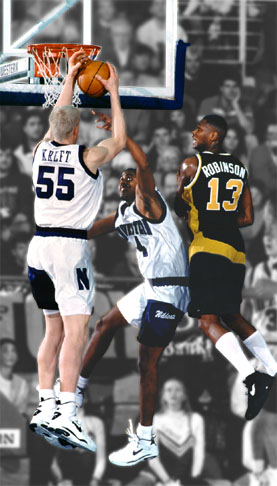 Suspended between myself and Glenn Robinson, Dewey Willams cringes as I pull down a crucial rebound during my very first BigTen game during my sophomore year.

(Games in ALL CAPS are home games.)
---
Back to BigDan in the BigTen.